25 Aug
Audio clip: Adobe Flash Player (version 9 or above) is required to play this audio clip. Download the latest version here. You also need to have JavaScript enabled in your browser.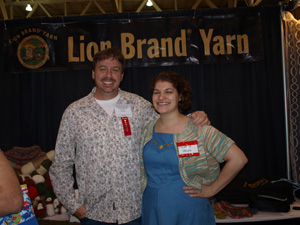 Join us for reflections on the Knit & Crochet Show — get a taste of all the excitement of being around hundreds of knitters and crocheters right from your own home (or wherever you listen to YarnCraft) — as well as designer interviews, in which we ask where they get their inspiration.
On today's episode, we're joined by popular blogger and the Crochet Dude, Drew Emborsky (who last graced us in episode 21), and we also talk to local NYC designer Michaela Drapes, who is one half of the menswear duo Kindling and Tinder.
Patterns discussed include:
Stash This: Ideas for Your Crafting Life — Customize your projects with easy tips and tricks, as we celebrate the return of our handy-dandy quick ideas segment.
To share your comments and thoughts, post a message on the blog, email to yarncraft [at] lionbrand [dot] com! Or call us and leave a message at 774-452-YARN–that's 774-452-9276. Our next episode will be focused on new patterns from our upcoming catalog, and must-have fall trends. What's your favorite fall project? Let us know and you may be included in our next episode!

Direct Download (Right-click — Ctrl+click on Macs — and select save)