10 Sep
In our last episode, we talked about reasons to learn new knitting and crochet skills, but we also talked about some of the touching and humorous books that feature yarncrafting.
Want to hear more yarn humor? Here are just a few episodes that feature our favorite funny people.
Franklin Habit
125 :: 15+ Favorite Fall Accessory Patterns - Writer, illustrator, and funny guy Franklin Habit joins us for his second visit with YarnCraft. Be sure to visit the Lion Brand Notebook blog for Franklin's monthly essay for Lion Brand. Listen to this fall-friendly interview or jump to 19:56 to listen to the interview.
Audio clip: Adobe Flash Player (version 9 or above) is required to play this audio clip. Download the latest version here. You also need to have JavaScript enabled in your browser.
108 :: 14 New Patterns from Our Catalog, PLUS 5 Trends for 2012 - Skip to 17:09 for Franklin's first visit with YarnCraft, in which he talks about the classes he teaches, how he got into antique patterns, and how to take a better fiber photo.
Audio clip: Adobe Flash Player (version 9 or above) is required to play this audio clip. Download the latest version here. You also need to have JavaScript enabled in your browser.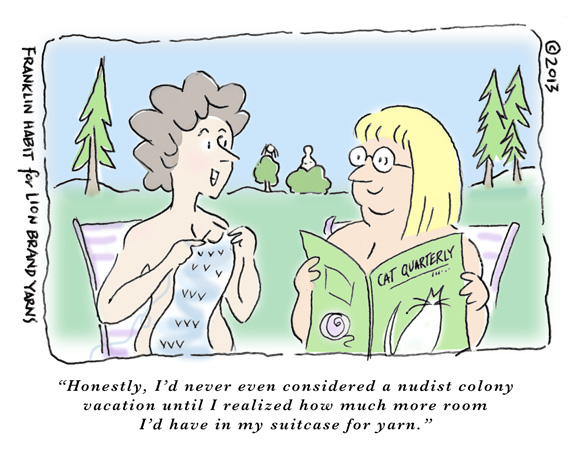 Click here to read the related essay by Franklin Habit.
Stephanie Pearl-McPhee
16 :: Get Crafty–Interviews with Innovative Crafters - The Yarn Harlot joins us for a short chat at the 2008 Maker Faire in San Mateo. Jump to 4:49 for this interview.
Audio clip: Adobe Flash Player (version 9 or above) is required to play this audio clip. Download the latest version here. You also need to have JavaScript enabled in your browser.
04 Transcript :: Behind the Scenes with Yarn Harlot, Stephanie Pearl-McPhee - One of our earliest episode, we no longer have this sound file available, BUT we do have the transcript for your reading pleasure (click the title above to read it). Join Jessica Abo, host of the first series of YarnCraft podcasts, as she interviews Stephanie. Stephanie also answers questions from our listeners.
Michaela Murphy
47 :: Travel, Relax, and Laugh – 10 Ways to Add Yarncrafting to Your Summer Break - With Halloween just around the corner, this is a perfect time to revisit our interview with the hilarious Michaela Murphy who shares a story of crafty misadventure. Skip to 16:58 for that story.
Audio clip: Adobe Flash Player (version 9 or above) is required to play this audio clip. Download the latest version here. You also need to have JavaScript enabled in your browser.
New episodes of YarnCraft return October 1st.